Gutter Guards Jacksonville Beach FL
Top-Rated Gutter Guards in Jacksonville Beach
When it comes to maintaining your home, one of the most important things you can do is keep your gutters clean. Clogged gutters can lead to a host of problems, including water damage, foundation issues, and even insect infestations. Gutter guards can help prevent these problems by keeping leaves, twigs, and other debris out of your gutters. In addition, gutter guards can help extend your gutters' lifespan by protecting them from damage and offering leaf protection. As a result, gutter screens are an excellent investment for any homeowner. Not only do they help to protect your home, but they also save you time and money in the long run.
Expert Gutter Guard Installation Services Jacksonville Beach FL Residents Trust
A well-maintained home is a happy home. But when it comes to gutter installation and maintenance, many homeowners don't know where to start. That's where our team comes in. We have years of experience installing and repairing gutters, and we're passionate about keeping homes in tip-top shape. We offer a variety of gutter guard installation services that will take care of your home from top to bottom. We'll install new gutter leaf guards that are specifically designed to funnel water away from your foundation, and we'll make sure they're correctly connected to your downspouts. We'll also clear out any debris accumulated in your gutters and inspect your downspouts to ensure they're unobstructed. With our help, you can rest assured that your gutters will be functioning properly and doing their job of protecting your home. Contact us today to learn more about our gutter installation services! If you're looking for gutter guards in Jacksonville Beach, FL, or gutter guard installation services in Jacksonville Beach, FL, get in touch with our gutter guard experts at Goode Brothers Roofs and Gutters.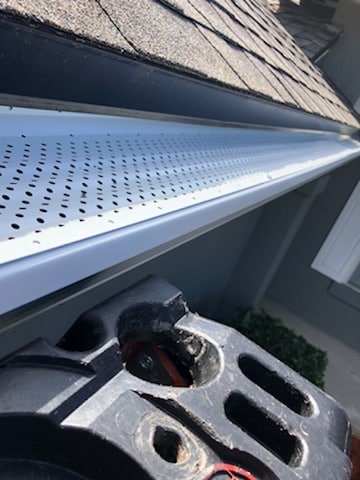 Professional Leaf Protection Done Right
If you've been putting off gutter installation because you're unsure where to start or what type of gutters will best suit your home, our Goode Brothers Roofs and Gutters team is here to help. We have a wide range of gutter styles and colors to choose from, and our experienced professionals will work with you to find the perfect solution for your home. In addition to aesthetics, we also consider functionality when recommending a leaf guard. We'll ensure that your gutters are properly sized and installed to effectively collect and divert rainwater away from your foundation. And, because we use high-quality materials and install them according to code, you can be confident that your gutters will provide years of trouble-free service.
Call Today for Gutter Guards in Jacksonville Beach, FL!
If you're looking for things to do in Jacksonville Beach, FL, you won't be disappointed. Whether you want to enjoy the sunny beaches, try your hand at surfing, or explore the nearby parks and nature trails, there's something for everyone. Jacksonville Beach is a great place to relax and soak up the sun for those who enjoy spending time outdoors. The beaches here are perfect for swimming, sunbathing, and enjoying the fresh air. If you're feeling more adventurous, there are plenty of opportunities for surfing, stand-up paddle boarding, kayaking, and more. And when you need a break from the sand and surf, there are plenty of shops and restaurants to explore in town. So whatever your interests, you're sure to find something to do in Jacksonville Beach, FL.
If you live in Jacksonville Beach, FL, and are looking for top-notch gutter guards, you've come to the right place. We combine friendly customer service with years of expertise to ensure your gutter guards support your gutters to the best of their abilities. So if you're ready to say goodbye to water damage and foundation problems, give us a call today. We also offer gutter repairs and gutter guards in the Jacksonville Beach area.
What Our Customers Say
Ashley responded to my request for an estimate immediately. It was a surprise to me because the hurricane was going to hit us in just a few days. I needed gutters installed before the heavy rains of the storm hit us. Ashley Goode came by and within minutes had proposed a solution for my home and a guaranteed price for the job.The estimate was actually lower than I expected plus she promised to have the work completed before the arrival of the hurricane knowing that I was very concerned. The work was completed the day after by her husband and his team of installers. It looked great and when the rains came the gutters performed exactly as Ashley had guaranteed. It's a pleasure to know I now have a company locally that can be counted and trusted to support my needs. Ashley will be my first call for any structural work that they can do for my home in the future.

Paul Z.
Professional and experienced roofers.

Hunter L.
We used Goode Brothers to do the side gutters on our house last year. Everything worked fantastic and decided to do the front of my house this year. Tim came out quickly to give me a fair quote and they had us on schedule and they were running behind that day and let me know. No worries, things happen folks. They rescheduled me for 8 o'clock this morning and the guys rolled up exactly at 8!! Tim and his crew did a fantastic job and were very kind and professional at all times!! I would give this company my highest rating! It was a pleasure working with them and the work is top notch. What a difference the gutters on the front made. Thanks Tim, Ashley, and Tim and your crew. God bless and continued success with your business. Gary

Gary
They did a great job with our gutters. We had a small issue with the gutters and when I contacted Ashley about it, she sent someone out right away and took care of it. It was handled in a very professional manner. Goode Brothers is a great company and I highly recommend them.

Andrea W.
Andrea W.