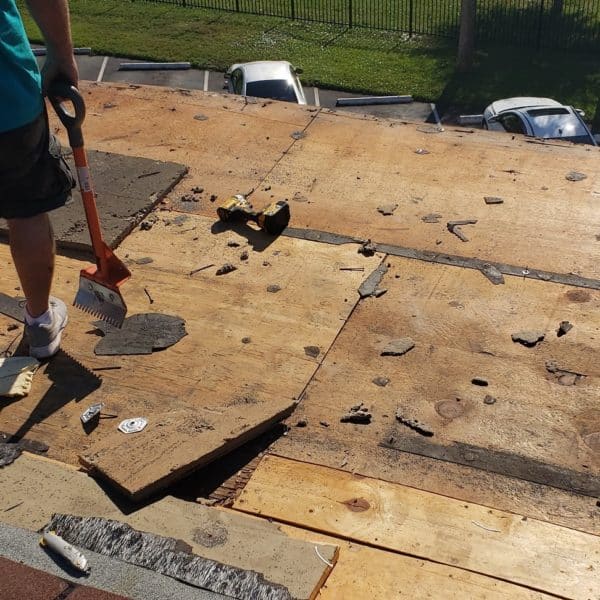 Types of Re-
 Roofs
Taking care of the roof of your home or business is a very important task for both residential and commercial property owners. Your roof is like the protector of all people and things that lie underneath it, so the proper function of your roof is vital. Over time, every roof needs some attention. There will come a time when your roof needs repair, replacement, or maybe even a re-roofing. For all of you roofing questions, contact our company, Goode Brothers Roof & Gutters. We are one of St. Augustine's top roofing companies, and we provide services for any residential or commercial property around our area.
You may be familiar with the term "re-roofing", or it may be a new term for you. If your roof is beyond repair, then you will want to consider installing a new roof. As a homeowner, it's important to know the difference between a roof replacement and a re-roofing project. Obviously, a roof replacement is just that; it is taking off all of the old shingles, or other roofing materials that you have, and replacing the top of your home with new felt and new roofing materials.
The types of Re-Roofing are:
Architectural Shingles
Modified
Gaco Coatings for Flat Roofs
While all of the materials are removed down to the roof decking area, you are able to visualize any wood rot that has occurred and correct any problems before replacing the roof once again.
A re-roofing is the process of placing new shingles on top of already existing shingles; therefore, not actually removing all of the older materials. A re-roofing project can cost less and be a quicker process than a total roof replacement; however, it may not always be the best practice. It is important to talk with a roofing professional to see if your roof may qualify for a re-roofing project, instead of a roof replacement. There are many deciding factors that will need to be considered before making this decision.
The team of professionals from Goode Brothers Roof & Gutters welcome the chance to discuss re-roofing and roof replacement with you, anytime. We have many years of roofing experience, and with a thorough inspection, we can help you make the right decision for your individual property. Contact us today if you would like to learn more!
We can install any brand of roofing but Goode Brothers prefers GAF. Click here to check out the brochure.
For flat roofs and low slope roofs click here for Modified Bitumen SBS Roofing Systems.
We also coat roofs and decks with Gaco and Armor Guard
What Our
Customers Say
Ashley responded to my request for an estimate immediately. It was a surprise to me because the hurricane was going to hit us in just a few days. I needed gutters installed before the heavy rains of the storm hit us. Ashley Goode came by and within minutes had proposed a solution for my home and a guaranteed price for the job.The estimate was actually lower than I expected plus she promised to have the work completed before the arrival of the hurricane knowing that I was very concerned. The work was completed the day after by her husband and his team of installers. It looked great and when the rains came the gutters performed exactly as Ashley had guaranteed. It's a pleasure to know I now have a company locally that can be counted and trusted to support my needs. Ashley will be my first call for any structural work that they can do for my home in the future.

Paul Z.
Professional and experienced roofers.

Hunter L.
We used Goode Brothers to do the side gutters on our house last year. Everything worked fantastic and decided to do the front of my house this year. Tim came out quickly to give me a fair quote and they had us on schedule and they were running behind that day and let me know. No worries, things happen folks. They rescheduled me for 8 o'clock this morning and the guys rolled up exactly at 8!! Tim and his crew did a fantastic job and were very kind and professional at all times!! I would give this company my highest rating! It was a pleasure working with them and the work is top notch. What a difference the gutters on the front made. Thanks Tim, Ashley, and Tim and your crew. God bless and continued success with your business. Gary

Gary
They did a great job with our gutters. We had a small issue with the gutters and when I contacted Ashley about it, she sent someone out right away and took care of it. It was handled in a very professional manner. Goode Brothers is a great company and I highly recommend them.

Andrea W.
Andrea W.