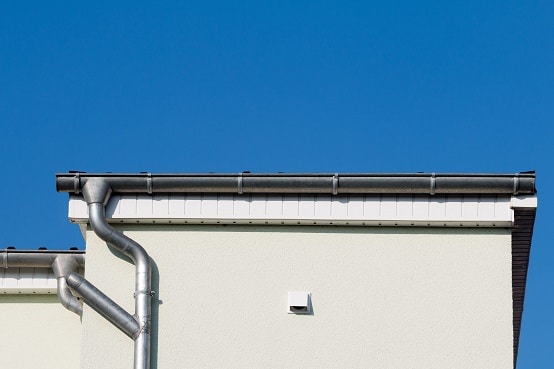 Commercial
Gutters
The gutters of your commercial property play a very important role in protecting your building(s) from water damage. Damage that can occur from improperly installed, or malfunctioning, gutters can be extensive and expensive, especially if the damage is left for a long time before it is repaired. Our company, Goode Brothers Roof & Gutters are experts in all aspects of gutter function, repair, and installation. There is no job that is too small or too big for us to tackle, and we welcome the chance to take care of all of your gutter needs for your commercial property.
Operating a business is a full-time job. The last thing that you should be worrying about, is the gutter system of your commercial building. This is where we can help! When you hire the professionals from Goode Brothers Roof & Gutters to care for your gutter system, we guarantee that we will ensure your gutters are operating properly and that the water from your roof can run smoothly away from your building through the gutters and the downspouts.
If your gutters are clogged, bent, or broken, then our team members will repair, or replace, the gutters, as needed. We know that clogs, bent gutters, or loose gutters are dangerous for the well-being of your building materials.
If you are interested in gutter installation or replacement, then we can take care of that project for you, too. We offer gutter installation services for all sizes of commercial properties. We will bring our gutter machine to your facility so we can customize the gutters to fit specifically for your
building. This way, we can ensure a proper fit and a long-life for your gutter system. For a full gutter job, we offer a 20-year warranty, as well.
If you are the owner or operator of a commercial property and you are looking for a dedicated team of professionals to help you with all of your gutter needs, then please contact Goode Brothers Roof & Gutters today! We guarantee that you will not be disappointed with our high-quality
craftmanship.
What Our
Customers Say
Ashley responded to my request for an estimate immediately. It was a surprise to me because the hurricane was going to hit us in just a few days. I needed gutters installed before the heavy rains of the storm hit us. Ashley Goode came by and within minutes had proposed a solution for my home and a guaranteed price for the job.The estimate was actually lower than I expected plus she promised to have the work completed before the arrival of the hurricane knowing that I was very concerned. The work was completed the day after by her husband and his team of installers. It looked great and when the rains came the gutters performed exactly as Ashley had guaranteed. It's a pleasure to know I now have a company locally that can be counted and trusted to support my needs. Ashley will be my first call for any structural work that they can do for my home in the future.

Paul Z.
Professional and experienced roofers.

Hunter L.
We used Goode Brothers to do the side gutters on our house last year. Everything worked fantastic and decided to do the front of my house this year. Tim came out quickly to give me a fair quote and they had us on schedule and they were running behind that day and let me know. No worries, things happen folks. They rescheduled me for 8 o'clock this morning and the guys rolled up exactly at 8!! Tim and his crew did a fantastic job and were very kind and professional at all times!! I would give this company my highest rating! It was a pleasure working with them and the work is top notch. What a difference the gutters on the front made. Thanks Tim, Ashley, and Tim and your crew. God bless and continued success with your business. Gary

Gary
They did a great job with our gutters. We had a small issue with the gutters and when I contacted Ashley about it, she sent someone out right away and took care of it. It was handled in a very professional manner. Goode Brothers is a great company and I highly recommend them.

Andrea W.
Andrea W.