Screen
Repairs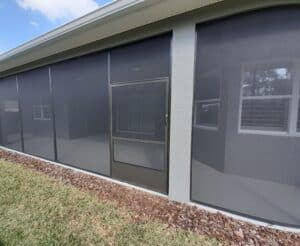 Whether you're tired of looking at your torn, worn screens or they're causing security concerns, be sure to rely on Goode Brothers Roofs and Gutters Inc. Here, we have you covered when it comes to screen repairs, providing top-of-the-line, efficient repair solutions you wouldn't be able to find anywhere else. No matter the size of the repair, always trust us to get the job done!
There could be plenty of reasons why your screen enclosure is damaged, whether it's from old age, severe weather, an accident, or more. No matter what caused the problem, you can rest assured knowing our crew of professionals is readily available to provide a quality solution. When you call our crew for work, we'll come to your property fully equipped with the tools and equipment needed to get the job done. Plus, we work closely with you to determine the best course of action for a high-quality, long-lasting repair.
When it comes to your screen enclosure – don't delay! Waiting around to schedule service can significantly damage your screen even more. When this happens, you could be looking at paying for a full-screen replacement. Be sure you schedule service at the first sign of damage by giving our team a call. Our team knows the ins and outs of performing prompt, efficient screen repairs, including:
Measuring the dimensions of the repair
Removing damaged screen mesh
Installing base strips and other materials
Attaching new, high-quality screen mesh to the strips
Installing cap strips to cover the base strips
Our experienced professionals have been fully trained and are highly qualified when it comes to providing screen repairs to our local Daytona Beach, Jacksonville, Jacksonville Beach, Orange Park, Ormond Beach, Palm Coast, Ponte Vedra, and St. Augustine communities. Instead of allowing our damaged screen to significantly de-value your residential property, trust our team for quality repair solutions that are sure to boost curb appeal and property value.
Any problem with your exterior screening can quickly lead to a much larger, more expensive issue. Keep your home in pristine condition by reaching out to our team for exceptional repair services accompanied by outstanding customer service. Get started today by contacting our team. We'd be more than happy to answer any questions you may have and schedule your service.
What Our
Customer Say
Ashley responded to my request for an estimate immediately. It was a surprise to me because the hurricane was going to hit us in just a few days. I needed gutters installed before the heavy rains of the storm hit us. Ashley Goode came by and within minutes had proposed a solution for my home and a guaranteed price for the job.The estimate was actually lower than I expected plus she promised to have the work completed before the arrival of the hurricane knowing that I was very concerned. The work was completed the day after by her husband and his team of installers. It looked great and when the rains came the gutters performed exactly as Ashley had guaranteed. It's a pleasure to know I now have a company locally that can be counted and trusted to support my needs. Ashley will be my first call for any structural work that they can do for my home in the future.

Paul Z.
Professional and experienced roofers.

Hunter L.
We used Goode Brothers to do the side gutters on our house last year. Everything worked fantastic and decided to do the front of my house this year. Tim came out quickly to give me a fair quote and they had us on schedule and they were running behind that day and let me know. No worries, things happen folks. They rescheduled me for 8 o'clock this morning and the guys rolled up exactly at 8!! Tim and his crew did a fantastic job and were very kind and professional at all times!! I would give this company my highest rating! It was a pleasure working with them and the work is top notch. What a difference the gutters on the front made. Thanks Tim, Ashley, and Tim and your crew. God bless and continued success with your business. Gary

Gary
They did a great job with our gutters. We had a small issue with the gutters and when I contacted Ashley about it, she sent someone out right away and took care of it. It was handled in a very professional manner. Goode Brothers is a great company and I highly recommend them.

Andrea W.
Andrea W.