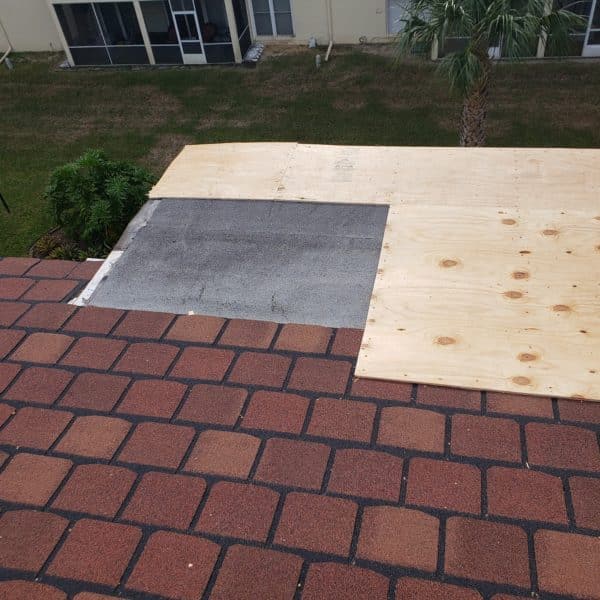 Roof
Installation
The roof of your home protects everything, and everyone, underneath it;
therefore, the quality of your roof is vital to providing optimum performance. The team members from Goode Brothers Roof & Gutters are experts in all aspects related to roofing materials, installations, and repairs. When you have work that needs to be done on your roof, then contact us for the area's highest-quality roofing assistance.
The professionals from Goode Brothers Roof & Gutters have been in the home construction business for many years. We know that your home is a big investment for you, and we always aim to provide our customers with 100% customer satisfaction. With our expert roof installation services, we can help you improve the value of your home, while also helping you to protect all that is valuable to you.
Our employees can help you decide the best roofing materials for your specific property. Whether you choose shingles, metal, tile, or some other roofing material, we have the knowledge, experience, and the tools needed, to install your roof and ensure that you will be completely satisfied. Your roof should last for several years, so we want to ensure that you are happy with the results of our roofing installation services.
Goode Brothers Roof & Gutters is a licensed and insured company. We always place safety first; the safety of our employees, you and your family, and that of your home and the surrounding property. We are dedicated to providing high-quality workmanship that we are all very proud of offering to each and every customer. From the beginning of your project until the very end, we promise to keep you informed and involved of the roof
installation process and all that it entails.
If you are looking for a professional company that you can trust to install or replace your roof, then look no further. The folks from Goode Brothers Roof & Gutters welcomes the opportunity to install a new roof for you. We look forward to hearing from you anytime!
What Our
Customers Say
Ashley responded to my request for an estimate immediately. It was a surprise to me because the hurricane was going to hit us in just a few days. I needed gutters installed before the heavy rains of the storm hit us. Ashley Goode came by and within minutes had proposed a solution for my home and a guaranteed price for the job.The estimate was actually lower than I expected plus she promised to have the work completed before the arrival of the hurricane knowing that I was very concerned. The work was completed the day after by her husband and his team of installers. It looked great and when the rains came the gutters performed exactly as Ashley had guaranteed. It's a pleasure to know I now have a company locally that can be counted and trusted to support my needs. Ashley will be my first call for any structural work that they can do for my home in the future.

Paul Z.
Professional and experienced roofers.

Hunter L.
We used Goode Brothers to do the side gutters on our house last year. Everything worked fantastic and decided to do the front of my house this year. Tim came out quickly to give me a fair quote and they had us on schedule and they were running behind that day and let me know. No worries, things happen folks. They rescheduled me for 8 o'clock this morning and the guys rolled up exactly at 8!! Tim and his crew did a fantastic job and were very kind and professional at all times!! I would give this company my highest rating! It was a pleasure working with them and the work is top notch. What a difference the gutters on the front made. Thanks Tim, Ashley, and Tim and your crew. God bless and continued success with your business. Gary

Gary
They did a great job with our gutters. We had a small issue with the gutters and when I contacted Ashley about it, she sent someone out right away and took care of it. It was handled in a very professional manner. Goode Brothers is a great company and I highly recommend them.

Andrea W.
Andrea W.