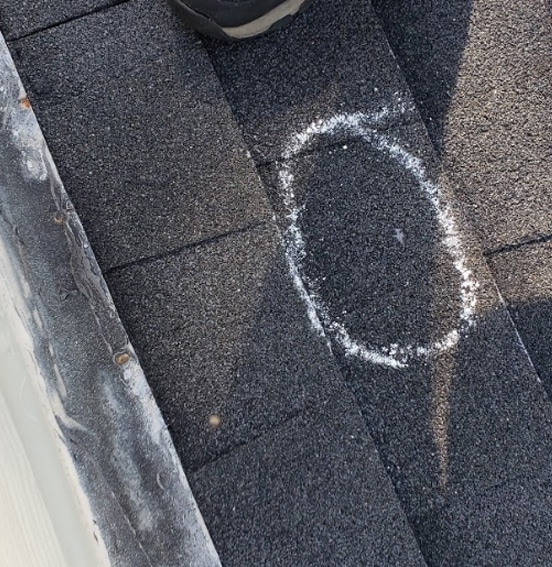 Storm Damage
Inspection
The storms that we receive in Florida are remarkable sometimes. Strong winds, heavy rain, hail, and other elements can wreak havoc on our homes and on our businesses. If you have concerns about your property after one of our significant storms, then it is a good idea to have your place checked out by a professional. The team members from Goode Brothers Roof & Gutters are glad to inspect your property for storm damage. We will check your place from top to bottom, while especially inspecting your roof for any signs of potential trouble.
When your roof has received damage from a storm, it is important to remember that the issue will not get better on its' own accord. In fact, it will only worsen with time and may become much more intensive and costly, if left alone. For this reason, it is important to inspect your property after storms, in order to ensure that nothing is visible as far as damage is concerned. If any damage is found on your roof, then the best practice is to fix it immediately, before more damage is created.
The team members from Goode Brothers Roof & Gutters have been in the construction business for many years, and we know what to look for when it comes to roofing damage. If there are shingles that are missing, then we can replace them. If a leak has occurred, then we can fix it. We will
inspect the expanse of your roof, in order to determine if there are areas that need some attention. We gladly offer free estimates of potential
projects, and we will not charge you for anything that has not been agreed upon.
You can trust the professionals from Goode Brothers Roof & Gutters to take care of your property and ensure that your roof is free from damage from the recent storm. We know that your home is a big investment for you, and our goal is to help you care for your property efficiently and
diligently. We welcome the chance to work with you anytime!
What Our
Customers Say
Ashley responded to my request for an estimate immediately. It was a surprise to me because the hurricane was going to hit us in just a few days. I needed gutters installed before the heavy rains of the storm hit us. Ashley Goode came by and within minutes had proposed a solution for my home and a guaranteed price for the job.The estimate was actually lower than I expected plus she promised to have the work completed before the arrival of the hurricane knowing that I was very concerned. The work was completed the day after by her husband and his team of installers. It looked great and when the rains came the gutters performed exactly as Ashley had guaranteed. It's a pleasure to know I now have a company locally that can be counted and trusted to support my needs. Ashley will be my first call for any structural work that they can do for my home in the future.

Paul Z.
Professional and experienced roofers.

Hunter L.
We used Goode Brothers to do the side gutters on our house last year. Everything worked fantastic and decided to do the front of my house this year. Tim came out quickly to give me a fair quote and they had us on schedule and they were running behind that day and let me know. No worries, things happen folks. They rescheduled me for 8 o'clock this morning and the guys rolled up exactly at 8!! Tim and his crew did a fantastic job and were very kind and professional at all times!! I would give this company my highest rating! It was a pleasure working with them and the work is top notch. What a difference the gutters on the front made. Thanks Tim, Ashley, and Tim and your crew. God bless and continued success with your business. Gary

Gary
They did a great job with our gutters. We had a small issue with the gutters and when I contacted Ashley about it, she sent someone out right away and took care of it. It was handled in a very professional manner. Goode Brothers is a great company and I highly recommend them.

Andrea W.
Andrea W.