Top-Rated Gutter Installation in Ponte Vedra FL
The professional staff from Goode Brothers Roofs and Gutters are excited to offer our dedicated services to all residential and commercial property owners/managers in the Ponte Vedra community. If you have been looking for services for your gutters Ponte Vedra, FL area, roofing services, storm damage services, or other related services, then our team of experienced and talented professionals would like to hear from you!
We are a family-owned and operated company. Our team members have many years of experience in the industry and we have access to some of the best tools and equipment on the market. Our motto explains, "We'll work hard to make sure every job is done right". All of our professionals work diligently and efficiently, in order to provide top-quality service and reliable workmanship to all of our customers.
High-Quality Seamless Gutters Ponte Vedra Residents Trust
Our residential customers may find an interest in our dedicated services for roofing replacements and repairs, gutter installation Ponte Vedra, FL services, gutter repairs Ponte Vedra, FL, gutter guard installation services, services for seamless gutters Ponte Vedra, Fl area, leaf protection services, woodworking services, storm damage inspections, and so much more. Our goal is to be the honest and hardworking group of professionals that you call upon for all of your roofing projects and gutter-related needs.
Our business owners can also count on Goode Brothers Roofs and Gutters for commercial seamless gutters, gutter repair services, gutter guards Ponte Vedra, FL services, roof installments and replacements, roof repairs, and so many other services that will help to protect and maintain your commercial property. We understand the value of your commercial property and the important role that it plays in the success of your business. Our team members will do everything that we can to work quickly, yet responsibly, while working on your commercial property.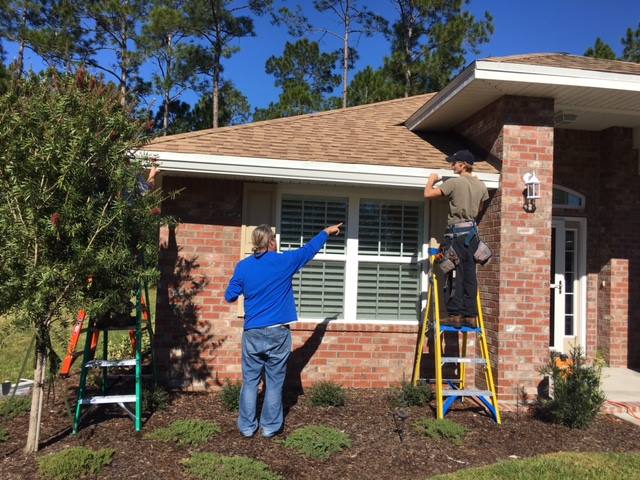 We Also Offer Gutter Guard Installation Services & Gutter Repairs in Ponte Vedra
Located in St. Johns County, Ponte Vedra is well-known for its' beautiful beaches and calming, relaxed atmosphere. Conveniently situated between Jacksonville and St. Augustine, Ponte Vedra offers easy access to both sprawling cities, as well as many other quaint beach towns along Florida's northern coastline. Approximately 30,000 people call Ponte Vedra their hometown and many more people visit the area throughout the year. There is a wide variety of shopping and dining establishments to enjoy, as well as golf courses, tennis courts, resorts and spas, outdoor recreational opportunities, and so much more to see and do in the area.
If you live in the vicinity and you have been searching for Ponte Vedra rain gutter installers near me, services for commercial gutters Ponte Vedra, FL area, or roof installations and repair services, then please reach out to a representative from Goods Brothers Roofs and Gutters. We offer our professional services all throughout the year and we always try to work with our customers'' schedules, as much as possible.
Call Today for Commercial Seamless Gutters & Gutter Repair Services!
We offer free estimates for any potential service and our team members are always available to answer any questions that you may have about our services, too. We are a group of hardworking and dedicated individuals who take great pride in the work that we do for our neighbors. Our professional staff is ready and excited to hear from you any time of the year! We look forward to providing you with our seamless gutters or gutter guards Ponte Vedra Beach FL services!
What Our Customers Say
Ashley responded to my request for an estimate immediately. It was a surprise to me because the hurricane was going to hit us in just a few days. I needed gutters installed before the heavy rains of the storm hit us. Ashley Goode came by and within minutes had proposed a solution for my home and a guaranteed price for the job.The estimate was actually lower than I expected plus she promised to have the work completed before the arrival of the hurricane knowing that I was very concerned. The work was completed the day after by her husband and his team of installers. It looked great and when the rains came the gutters performed exactly as Ashley had guaranteed. It's a pleasure to know I now have a company locally that can be counted and trusted to support my needs. Ashley will be my first call for any structural work that they can do for my home in the future.

Paul Z.
Professional and experienced roofers.

Hunter L.
We used Goode Brothers to do the side gutters on our house last year. Everything worked fantastic and decided to do the front of my house this year. Tim came out quickly to give me a fair quote and they had us on schedule and they were running behind that day and let me know. No worries, things happen folks. They rescheduled me for 8 o'clock this morning and the guys rolled up exactly at 8!! Tim and his crew did a fantastic job and were very kind and professional at all times!! I would give this company my highest rating! It was a pleasure working with them and the work is top notch. What a difference the gutters on the front made. Thanks Tim, Ashley, and Tim and your crew. God bless and continued success with your business. Gary

Gary
They did a great job with our gutters. We had a small issue with the gutters and when I contacted Ashley about it, she sent someone out right away and took care of it. It was handled in a very professional manner. Goode Brothers is a great company and I highly recommend them.

Andrea W.
Andrea W.