Top-Rated Gutter Installation in Ormond Beach FL
The professionals from Goode Brothers Roofs and Gutters Inc are excited to offer services for all types of gutters in Ormond Beach, FL, to residential and commercial property owners. The gutter system on your home or business is essential for protecting your structure from water damage during strong rain storms. As a property owner, you need to ensure your gutters are attached correctly and functioning properly at all times. If you have been searching for a company to take care of your residential or commercial gutters Ormond Beach, FL, area, please contact our team at your earliest convenience. We are excited to hear from you!
Gutter installation in Ormond Beach, FL, services can be performed by a variety of companies; however, we hope to be the knowledgeable and experienced team you call upon for all your residential and commercial seamless gutters Ormond, FL services. We understand the nuances involved in gutter systems, and we use our training to ensure your gutter system is working correctly.
High-Quality Seamless Gutters Ormond Beach Residents Trust
We install seamless gutters Ormond Beach, FL, area. We also provide services for gutter inspections, gutter guards, gutter repairs, and more. Our goal is to be the trustworthy rain gutter company you call for all your gutter-related needs and services. Our team members have advanced training and professional equipment that enables us to install gutter systems on all types of homes and buildings.
Our experts work closely with each client to determine the type of gutter you want for your property. During a gutter installation Ormond Beach, FL, service, our crew customizes seamless gutters that will fit your specific home. We securely attach gutters and downspouts to your building materials, and we check to make sure the system is working properly before we complete the project. As a locally-owned and operated company, we know the environmental challenges homeowners across the region deal with throughout the year. We are an enthusiastic group of experts who enjoy helping our neighbors protect their property from water damage.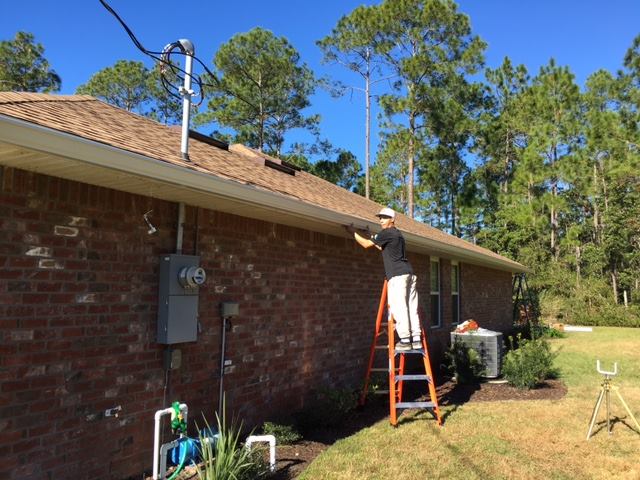 We Also Offer Gutter Guard Installation Services & Gutter Repairs in Ormond Beach
Ormond Beach is a quaint and welcoming community located along the eastern shore of Florida. Approximately 44,000 people live in the community, and many more people visit the region annually. Ormond Beach has much to offer, including; beautiful beaches, attractive restaurants, shopping establishments, museums, parks, and family-friendly entertainment venues. Central Park is a popular destination for people of all ages. This park encompasses 149 acres and offers a beautiful lake, fishing pier, boat ramp, walking and biking trails, picnic tables, and so much more.
If you live or work in the region and you have been looking for Ormond Beach rain gutter installers near me, then please look no further than the dedicated crew from Goode Brothers Roofs and Gutters. We started as a small company, and we have grown our business and our solid reputation over the years. Our team enjoys working with people all over the region, and we look forward to working with you, too!
Call Today for Commercial Seamless Gutters & Gutter Repair Services!
If you would like to learn more about the gutter installation Ormond Beach, FL services we offer, or if you are interested in a free quote, then please reach out to a representative from Goode Brothers Roofs and Gutters today. We are glad to answer any questions you have for us or place your name on our schedule, too. We are excited to speak with you anytime! We also offer gutter repairs and gutters guards to Ormond Beach, FL, and the surrounding area!
What Our Customers Say
Ashley responded to my request for an estimate immediately. It was a surprise to me because the hurricane was going to hit us in just a few days. I needed gutters installed before the heavy rains of the storm hit us. Ashley Goode came by and within minutes had proposed a solution for my home and a guaranteed price for the job.The estimate was actually lower than I expected plus she promised to have the work completed before the arrival of the hurricane knowing that I was very concerned. The work was completed the day after by her husband and his team of installers. It looked great and when the rains came the gutters performed exactly as Ashley had guaranteed. It's a pleasure to know I now have a company locally that can be counted and trusted to support my needs. Ashley will be my first call for any structural work that they can do for my home in the future.

Paul Z.
Professional and experienced roofers.

Hunter L.
We used Goode Brothers to do the side gutters on our house last year. Everything worked fantastic and decided to do the front of my house this year. Tim came out quickly to give me a fair quote and they had us on schedule and they were running behind that day and let me know. No worries, things happen folks. They rescheduled me for 8 o'clock this morning and the guys rolled up exactly at 8!! Tim and his crew did a fantastic job and were very kind and professional at all times!! I would give this company my highest rating! It was a pleasure working with them and the work is top notch. What a difference the gutters on the front made. Thanks Tim, Ashley, and Tim and your crew. God bless and continued success with your business. Gary

Gary
They did a great job with our gutters. We had a small issue with the gutters and when I contacted Ashley about it, she sent someone out right away and took care of it. It was handled in a very professional manner. Goode Brothers is a great company and I highly recommend them.

Andrea W.
Andrea W.