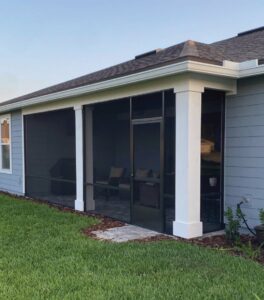 Screen Lanais
Here in Florida, we're no strangers to hot, humid weather, which makes going outside and enjoying your outdoor living spaces a hassle. Thankfully, your only options aren't spending your summers indoors or bearing the dreadful heat! Instead, Florida property owners can rely on Goode Brothers Roofs and Gutters Inc for high-quality screen lanais.
Creating a large livable exterior space for you, your family, and friends to relax, enjoy, and feel safe when bringing out your baby or pets is easy when you depend on the professional crew at Goode Brothers Roofs and Gutters Inc. Our expert team of screen lanais builders can carefully craft the perfect outdoor enclosure that you and your family will surely love. Plus, our screen lanais come in three types – an expanded view, Kick plate, and chair rail only – so no matter your style preferences, budget, or property size, we're more than happy to install a beautiful screened outdoor living area that is specially tailored to you and your needs.
Our quality lanai screen builds are the perfect addition to any property! Whether you want to help beat the Florida heat or just want an extended living space, you can always trust the Goode Brothers Roofs and Gutters Inc team to provide you with exquisite results. Plus, there's a wide range of benefits to adding our screen lanais to your home, including the following:
Insect Prevention: Enjoying the outdoors is difficult when you have mosquitoes, bugs, and insects around you the entire time. Ditch the bug spray and trust our professionals for a screen lanai that prevents bugs and protects you from any pesky invaders.
UV Protection: Make sure you and your family are fully protected from the sun's harmful UV rays with a screen lanai. Our outdoor enclosures will thoroughly prevent the sun from invading your space while still giving you enough sunlight to stay warm.
At Goode Brothers Roofs and Gutters Inc, we take pride in offering the highest quality screen lanais in all of Daytona Beach, Jacksonville, Jacksonville Beach, Orange Park, Ormond Beach, Palm Coast, Ponte Vedra, St. Augustine, and beyond. If you'd like one of our screen lanais installed on your property, don't hesitate to reach out to our professionals to schedule your service.
What Our
Customer Say
Ashley responded to my request for an estimate immediately. It was a surprise to me because the hurricane was going to hit us in just a few days. I needed gutters installed before the heavy rains of the storm hit us. Ashley Goode came by and within minutes had proposed a solution for my home and a guaranteed price for the job.The estimate was actually lower than I expected plus she promised to have the work completed before the arrival of the hurricane knowing that I was very concerned. The work was completed the day after by her husband and his team of installers. It looked great and when the rains came the gutters performed exactly as Ashley had guaranteed. It's a pleasure to know I now have a company locally that can be counted and trusted to support my needs. Ashley will be my first call for any structural work that they can do for my home in the future.

Paul Z.
Professional and experienced roofers.

Hunter L.
We used Goode Brothers to do the side gutters on our house last year. Everything worked fantastic and decided to do the front of my house this year. Tim came out quickly to give me a fair quote and they had us on schedule and they were running behind that day and let me know. No worries, things happen folks. They rescheduled me for 8 o'clock this morning and the guys rolled up exactly at 8!! Tim and his crew did a fantastic job and were very kind and professional at all times!! I would give this company my highest rating! It was a pleasure working with them and the work is top notch. What a difference the gutters on the front made. Thanks Tim, Ashley, and Tim and your crew. God bless and continued success with your business. Gary

Gary
They did a great job with our gutters. We had a small issue with the gutters and when I contacted Ashley about it, she sent someone out right away and took care of it. It was handled in a very professional manner. Goode Brothers is a great company and I highly recommend them.

Andrea W.
Andrea W.